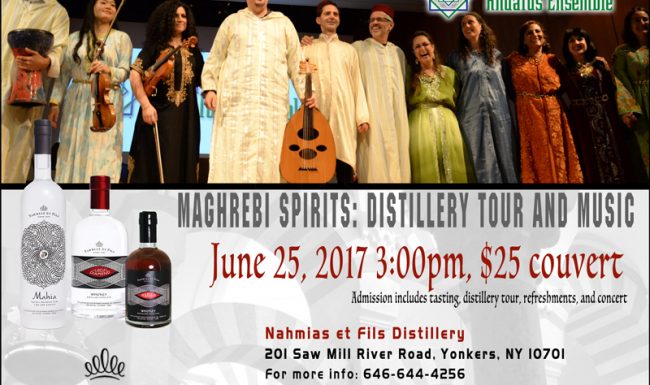 Maghrebi Spirits – Tasting, Tour, and Concert
In conjunction with Nahmias et Fils Distillery, the New York Andalus Chamber Orchestra will be presenting a concert as part of an afternoon that includes a tasting, distillery tour, and refreshments.
Tickets: https://www.eventbrite.com/e/maghrebi-spirits-tasting-tour-and-concert-tickets-35082273023
Facebook: https://www.facebook.com/events/220978688407608
Nahmias et Fils Distillery
Hudson Valley Master Distiller David Nahmias and his wife Dorit hand-craft their award-winning spirits with the finest, natural ingredients. They are proudly the sole producers of Mahia in the United States.
Nahmias et Fils, was founded by Dorit Nahmias—a former foreign-exchange trader quoted in the New York Times, Los Angeles Times, and the WallStreet Journal—and Master Distiller David Nahmias, a former computer-software engineer, who was raised in the small Moroccan town of Taznakht. His parents, Joseph and Tamou, and grandparents Saada and Moshe, distilled Mahia, a unique Jewish alcoholic beverage; following the Jewish exodus from the region, his dad became legendary for being the last Jew to remain in Taznakht. Individually, and as a couple, Dorit and David have traveled to Singapore, Venezuela, Panama, London, Montreal, Chile, Brazil, Canada, Mexico, Israel, Romania, France, Spain, as well as the Napa Valley, Los Angeles, Orlando, Miami, Washington D.C., New England, Pennsylvania, Virginia and New York. Dorit is a graduate of the Levin Institute and Carnegie Mellon University and David is a graduate of Cégep du Vieux in Montréal
Gig Alert
Comments
comments