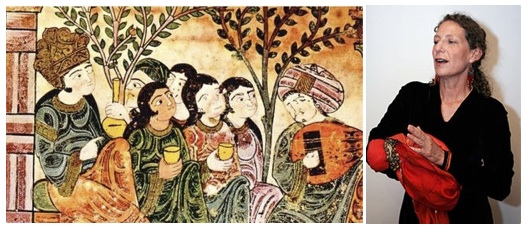 It has been an exciting month for NYAE. We've met many new friends, from around the world, performed with Esti Kenan Ofri at Hunter College, learned a couple new songs in rehearsal, and began preparing for a slew of spring shows. Here are some highlights.
Hunter College Performance Workshop 03/24/15
The Performance Workshop at Hunter College was co-sponsored by the Anthropology, Music, and Classical & Oriental Studies Departments. Organized by Prof. Jonathan Shannon, we came together with renowned singer, dance artist, and educator Esti Kenan Ofri to present musical pieces from North Africa, Syria, and the Balkans that were prominently performed in the Sephardi-Mizrahi Jewish communities.
Featuring: Samuel Torjman Thomas, Esti Kenan Ofri, Sjimon den Hollander, Eylem Basaldi, Dror Shahaf
Esti then visited NYAE rehearsal. Take a listen:
NYAE Rehearsal Visit
We had a wonderful time last week welcoming several friends into our rehearsal. Filmmaker Kamal Hachkar, in town for screenings of Tinghir-Jerusalem, came by to sing and dance with us. Among the visitors present was our friend, United Nations journalist for Moroccan Agencie Presse Bouchra Benyoussef, Israeli artist Libat Ohayon, man about town Simo Ellaisaoui, and two young Columbia students Zahra and Natalie.
Upcoming Performance Dates
5/9 – Youm el-Ilm Celebration, Algerian-American Scientists Association, New York, NY
5/21 – CUNY, Elebash Recital Hall, New York, NY TICKETS
5/31 – Greek Jewish Festival, New York, NY
6/1 – Sephardic Temple, Cedarhurst, Long Island, NY
6/14 – JCC Manhattan, Global Sunday Series, New York, NY TICKETS
6/21 – Makin' Music New York Festival
Comments
comments